Retail customers are going online to shop offline – locally

Completely Retail recently caught up with Nick Brackenbury, co-founder and CEO of NearSt whose mission is simple: to get people back into high street shops.
As retail opens back up and lockdowns lift, everyone wants to know the answer to two key questions: how do we get footfall back into retail shops and what does the future for retail online look like?
These questions are often posed as competing challenges, where online is about how best to sell and ship products all around the country and the shop is about delivering a great differentiated experience for local customers.
But this isn't how people are shopping, despite what the changes of the last 12 months might lead you to believe.
What we all saw over the past 12 months
During 2020 and the start of 2021 there are two retail trends that were well reported:
Online shopping grew by 40%
As retail shops closed and venturing out became a risky endeavour, consumers found they could actually get many things they never thought about ordering online really quite conveniently. As restrictions lifted, many of these habits, driven by convenience, stuck.
Retail customers still love the physical store experience
As soon as non-essential retailers were allowed to re-open, footfall jumped. Shopping malls and retail parks reported a surge in footfall in the first few weeks of reopening, with perhaps the most marked sight being queues outside Primarks up and down the country – a retailer with no ecommerce offering.
However these two trends don't tell the full story.
Shoppers are going online to find products locally
Almost five times as many shoppers are going online to find products locally today than before the pandemic.
These are shoppers who are searching for a product in Google, seeing that it is stocked locally, and going to get more information about the store that it is stocked in.
What's more, this appears to be a sustained shift. The 5x growth we're seeing today is what's stuck around after the spikes seen during March and December 2020. People who tried to find things online in their local shops during a lockdown realised it was actually quite easy, and then continued with the habit as restrictions lifted.
Shoppers love the high street, but they expect it to be just as convenient (if not more so) than shopping online.
How retailers are capturing this online local shopper
The way retailers are capturing this growth in shoppers going online to shop locally is relatively simple, and is all focussed on making the shopper's journey even more frictionless and simple than ordering online.
The tools available are all relatively new, and new ones are coming online all the time.
Customers want to search for your products in Google but visit and purchase in store
If you use an electronic point of sale (EPOS) system and link it to a company like NearSt, then you can show everything you have in-stock directly on your Google My Business page. This is the panel on the right of Google that shows things like your opening hours, ratings, and contact details.
See What's In-Store gives customers looking for your shop the ability to check if you have the item they're looking for, or something similar. It's a great way of giving them the confidence to visit your retail outlet.
Connecting your EPOS to Google using NearSt also means you don't need to worry about sourcing product descriptions or imagery – we use the barcodes in your EPOS to automatically generate all of this information for you.
List your products in Google Shopping
Until recently, Google Shopping was the preserve of ecommerce websites willing to put large marketing budgets into Google. In 2020 that changed, and Google started listing products being fed into See What's In Store into Shopping as well, at no cost.
Shopping is a great way to get your products in front of customers nearby who are browsing for things you stock in Google Shopping, and showing them that the products they are looking for are in-fact also stocked locally in your store.
Appear more prominently in Google Maps
In addition to showing your products in Google Shopping, Google also gives your business a boost in the Google Maps ranking if you are sending in-store inventory to them. This means that if a shopper has Google Maps open and searches for a general term relevant to your business – for example "Health food shops" – your business will appear higher up and more prominently in the results Google shows the shopper.
Advertise to local shoppers with Local Inventory Ads
For shops looking to really boost your local presence, Google Local Inventory Ads give your products the ability to appear at the top of search results for customers searching nearby.
These can be general terms and don't need to have any local context to them. For example, a shopper may simply Google "baby milk formula", and if your store stocks any number of relevant products then they can appear at the top of search results along with information showing how nearby your store is to the customer.
As the name suggests, Local Inventory Ads are an advertising tool that you can turn on and off whenever it suits you, with the amount you invest dictating how many local shoppers will likely see your products in a given day. At NearSt we manage these for thousands of UK retailers, so you just need to decide when to turn them on and off.
Create your shop on Facebook & Instagram
Many of the shops we work with use their Facebook and Instagram pages as their primary means of communicating with local shoppers. The great news is that in 2020 Facebook launched a commerce offering, enabling shops to list their products directly on both Facebook and Instagram.
This means you can not only show what you stock on Facebook, but also tag posts and images with the products from your Facebook store. It's a great way to further enhance how you communicate with your local community online.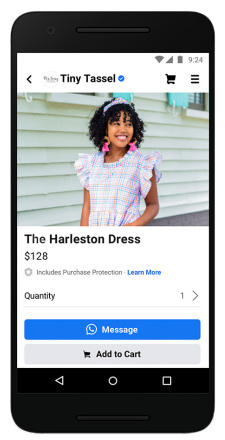 What comes next?
I believe that the future is incredibly bright for high street retailers. The last 12 months have been tough, but it's also accelerated changes from both consumers and retail shops that can blend the convenience of shopping online with the unrivalled experience of shopping in your local store.
As we look at what the next 12 months hold, I think that by the summer 2022 we'll be struggling to remember a time when we couldn't search and browse all our local shops in just a couple of taps on our phone. This is a future where people don't talk about "supporting" their local high streets, but one where it is genuinely, faster, easier, and more convenient to get much of what we buy from our local shops.
NearSt exist to get people back into high street shops. If you'd like to find out more about how they're supporting thousands of high street retailers by making their in-store products visible to the millions of nearby shoppers already looking for them online, come and say hello on near.st or drop us a line on hello@near.st
Like what you've read? Take a look at some more of our insight pieces from key retail property subject matter experts on Completely Retail here
Almost five times as many shoppers are going online to find products locally today than before the pandemic. These are shoppers who are searching for a product in Google, seeing that it is stocked locally, and going to get more information about the store that it is stocked in.

Nick Brackenbury
NearSt