The new recipe for shopping centre success
30th November 2022 |
Katie Girdwood, Business Development Manager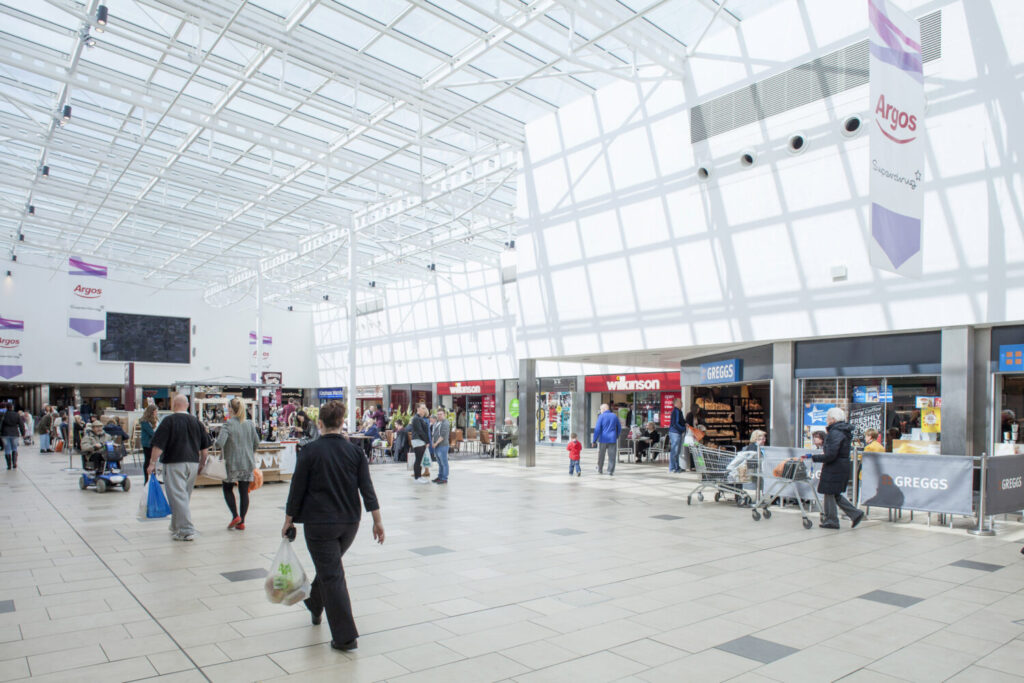 The shopping centre sector has long seen levels of vacancy above those of high streets and retail parks. With their elevated level of exposure to major chain brands affected by CVAs and administrations, shopping centre vacancy peaked over the pandemic period.
According to our recent analyses, shopping centre vacancy rates have begun a slow yet significant recovery following their all-time high in H1 2020. Our latest report reveals that, in the year to H1 2022, percentage net change in shopping centre units fell from -3.3% to -0.3%. Although vacancies remain, openings are picking up in line with growing market sentiment as investment and development plans continue to materialise.
We compared 11 new schemes* across Britain to understand how they are responding to pandemic-influenced trends in consumer behaviour as part of the sector's revival.
Above-average leisure provision
Over 50% of the 11 new schemes have an above-average percentage of leisure units compared to the GB shopping centre average of 23%. The drive for a higher proportion of leisure tenants speaks to the more experiential focus of today's shopping destinations. F&B tenants, along with other leisure occupiers such as mini-golf and bowling brands, are prized for their ability to increase dwell time and offer experiences that cannot be replicated online.
Despite the challenges to the comparison goods sector, which has seen record levels of closures following a host of CVAs and administrations, they are still considered highly desirable shopping centre tenants. Comparison brands can create a strong pull for the local catchment and can typically meet shopping centre rents, both key factors in the early success of a new scheme.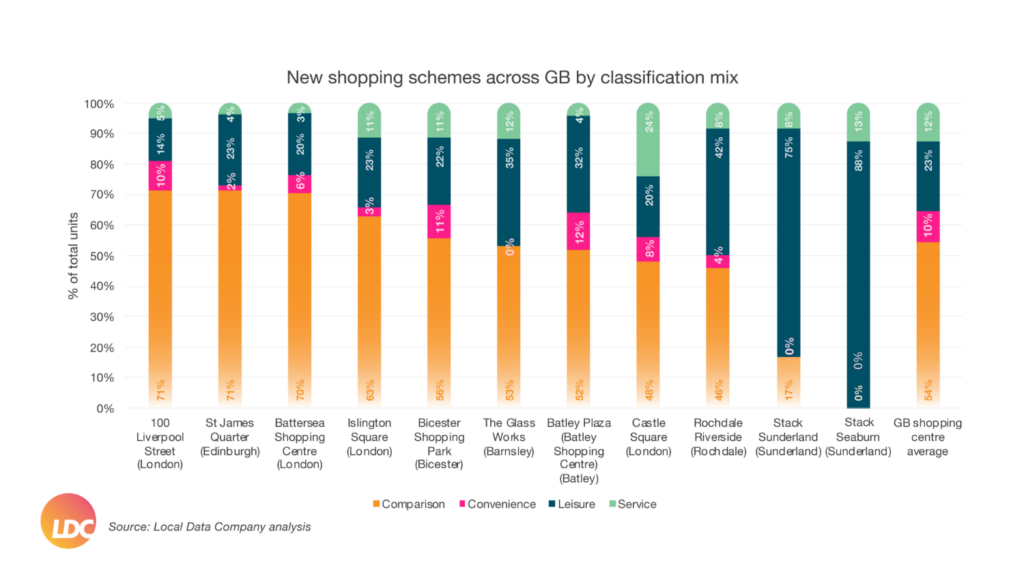 A willingness to welcome independent occupiers
A prevalent trend in the redevelopment of existing centres has been a drive to reposition assets to better suit the needs of the local catchment. Independent brands have not historically been a fixture at shopping centres, mainly due to high rents, but the growth of independents over the pandemic period (where they consistently outperformed multiples) has proven their ability to thrive. As a result, each of the 11 new schemes has at least one independent occupier.
Both Castle Square and Stack Sunderland are fully occupied by independent brands, relying on a mix of local traders to bring in a loyal customer base. Batley Plaza and Islington Square follow close behind, with independent mixes of 92% and 89% respectively. Vacancies have driven rents down, but operators have also been more willing to offer flexible rental terms to increase accessibility for the right tenants.
The diminished role of the department store anchor
The demise of the department store in GB came as a blow to shopping centres and caused surrounding stores to suffer. Large-format units have presented a challenge to fill, although some former Debenhams stores at existing schemes have been converted for new uses including workspaces and hotels. The department store brands left behind have focused on reconsolidating their estates rather than expanding: the M&S at the Rochdale Riverside scheme and the John Lewis at St James Quarter are not new openings, but relocations within the same town.
Although it also saw a raft of closures, the fashion & general clothing category makes up 24% of new openings across the 11 schemes, 8% above the GB average for shopping centres. Again, clothing stores are still desirable tenants, and still more than capable of acting as anchors. Clothing brands have also increasingly focused their efforts on an omnichannel approach, positioning physical stores both as experiential showrooms and as click-and-collect hubs.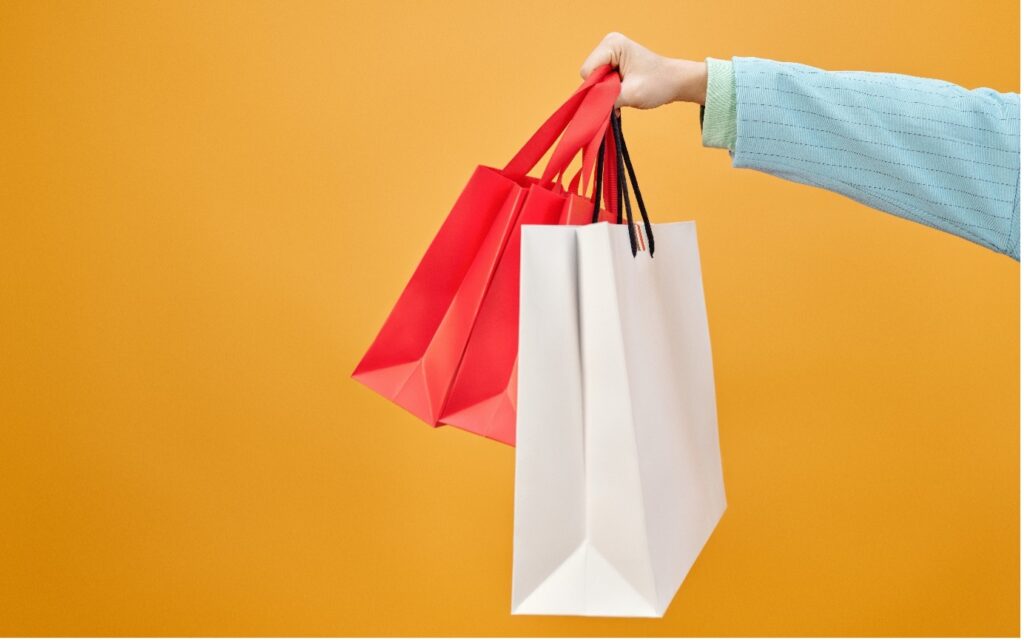 Looking and feeling good
Following the departures of other key department store brands, Next has been expanding its 'department store' offering in recent years: across the new schemes, it has been the most prolific occupier so far, opening in 4 of the centres. Fashion brands Reiss, Tommy Hilfiger, JD Sports, and health and beauty stores Boots, The Body Shop and L'Occitane have all each opened across 3 of the 11 schemes.
We have already covered the benefits of a shopping centre presence for fashion brands, both for occupiers and operators, but health and beauty brands have their own appeal. The continued popularity of self-care and the relative low cost of at-home beauty treatments compared to a salon could help this category remain relatively resilient even as the cost-of-living crisis tightens discretionary spending.
Centres of opportunity
Through our work delivering tenant strategy and gap analysis projects in this space, we have come to understand the key concerns for landlords, investors and brands in the current market. Today's new shopping and leisure schemes incorporate the lessons learned from the pandemic period, with refreshing results. The rise of hero independents, international brands and digitally native occupiers at shopping centre schemes has diversified their retail offering and driven an ongoing decline in vacancy.
This activity has been supported by the increasing flexibility of the commercial property market: shorter leases, pop-up formats and new concepts such as competitive socialising and shared workspaces present innovative ways to address vacancies and create a more diverse, appealing environment for shoppers and communities. The buzz around new schemes with extensive catchments also makes them an attractive option for shopping centre veteran brands and new occupiers looking to enter the space. Recent openings and redevelopments in the sector point to a future of opportunity.
To discuss how LDC's real-time view of the entire GB retail and leisure market can support strategic planning and investment activity for your business, get in touch at katie.girdwood@localdatacompany.com.
*St James Quarter (Edinburgh); Batley Plaza; Rochdale Riverside; 100 Liverpool Street (London); Castle Square (London); Stack Sunderland; Islington Square (London); The Glass Works (Barnsley); Bicester Shopping Park; Stack Seaburn (Sunderland); and Battersea Shopping Centre