Avison Young appoints co-managing directors to London office
9th November 2023 |
Jack Oliver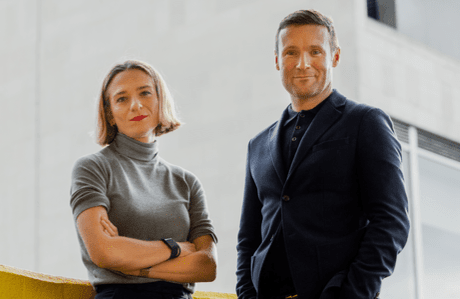 Avison Young has announced the appointment of two co-managing directors to its London office.
Kat Hanna, who is the commercial property firm's current director of strategic advisory and place strategy, has been appointed along with Adrian Boyce, who is currently principal and head of project management, workplace, arts and culture.
Hanna joined Avison Young over a year ago, supporting the Management Committee in business planning and corporate strategy. She has worked in politics, policy, and development in London over the last decade. Hanna is also the chair of the NLA NextGen Committee and a trustee of the London Society.
Prior to her time at Avison Young, Hanna worked as masterplan strategist for Lendlease, overseeing the over-station development of Euston in London. She has also held roles at Cushman & Wakefield and Centre for London.
Adrian Boyce joined Avison Young earlier this year, bringing experience within project management and a background in occupier-focused solutions. He has over two decades experience in London's real estate market, having previously held the role of head of capital project solutions at JLL for seven years. There he worked across a number of leadership roles across project management, sales, and occupier solutions.
Prior to his time at JLL, Boyce worked as director of project management at AECOM for 12 years.
During his tenure at Avison Young, he was worked on the redevelopment of Salisbury Square for the City of London, working with a number of cultural institutions and global corporations on workplace and occupier strategies.
Avison Young said the appointment of the co-managing directors will usher in a "fresh strategic direction" that will both benefit clients and generate a positive and meaningful impact within the communities it serves.
Nick Walkley, UK President of Avison Young, said: "Both Kat and Adrian have consistently demonstrated their commitment and capability within Avison Young, establishing their status as invaluable assets to our organisation. They will enrich our leadership team with their substantial skills and wealth of experience.
"The decision to appoint two co-managing directors for the London office is a strategic move aimed at harnessing the unique strengths and perspectives that Kat and Adrian bring to the table. This co-leadership model not only empowers our London office but also reinforces collaboration with our clients and partners. It allows us to offer a diverse and dynamic leadership approach that can navigate the complexities of the London market effectively."
Kat Hanna said: "I am excited to bring my understanding of and passion for the London office, and our many outstanding people and projects, and the city and context in which we work to this role. I look forward to working with Adrian, in combining our respective strengths, insights and networks to create a culture of collaboration and community in London that ensures we can best anticipate and respond to the needs of our London clients."
Adrian Boyce added: "I am delighted to be a part of driving growth for the London office and in its ongoing transformation, bringing my sales and commercial acumen to the role. I look forward to developing relationships with this team so that London achieves its potential, but also to playing a supporting role in other regions. This collaborative leadership approach between myself and Kat, will bring combined experience and diversity of thought to navigate this dynamic sector."