Cotswold Designer Outlet: Q&A with the firm leading the development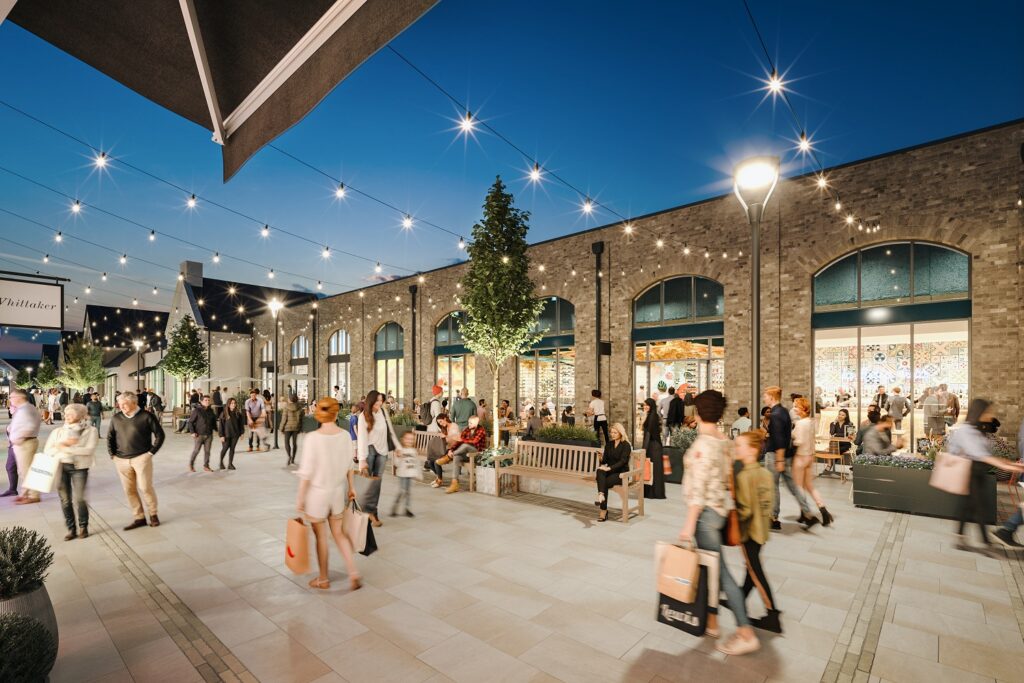 Work on the first phase of the 185,000 sq ft Cotswolds Designer Outlet destination, located at Tewkesbury Junction 9 of the M5, is due to start in the autumn.
The development will offer retail and dining space for 56 new brands, with outlet retail specialist Realm leasing the scheme.
Simon Tothill, property and development director at Robert Hitchins – which is delivering the project – shares an update on its progress with Completely Retail News:
How is the development of Cotswolds Designer Outlet progressing?
"We have now appointed Bouygues UK as main contractor to deliver the first phase of Cotswolds Designer Outlet, comprising 136,000sq ft of retail and F&B space for 56 new brands. Construction will commence on-site in November, with an anticipated launch in Spring 2025.
"When fully complete, the new outlet centre will offer 90+ retail brands over 185,000 sq ft of outlet space. The designer outlet is the final piece of our long-term aspirations for this 300acre mixed-use development site located immediately adjacent to Junction 9 of the M5 Motorway. We are creating new retail, F&B, garden centre, community play areas and new homes, and significantly contributing to the continued economic growth of this area.
"Some of the first elements of the wider programme have already been delivered, including a new 74,000 sq ft flagship Dobbies Garden centre – with a Waitrose Foodhall, restaurant and café – that opened in late 2022 and is trading very well already, expected to attract in excess of 750,000 shoppers a year. Meanwhile, the housing component of the project is currently in full swing, the show home is open and construction on the planned 1,310 new homes is making good progress.
"We have already invested £20 million in crucial infrastructure in this location, including improving transport connectivity links to the M5, and delivering important enabling works to bring forward the next stages of the programme."
You mentioned that construction for the outlet scheme will commence soon, where are you with pre-leasing and what's the retailer response been so far?
"The response has been overwhelmingly positive. Realm's leasing team has attracted a large number of leading international brands, and we have over 50% of the lettable area either exchanged or in solicitor's hands, with a further 20% in advanced negotiation. We look forward to announcing these brands in due course.
"We have secured a range of high-quality fashion, sport, outdoor and homewares brands, as well as well-known F&B operators, to create a unique 'full day out' offering and it is important for us that we focus on securing additional quality tenants that will chime with the demographic we are targeting; the catchment is affluent, and its crucial the experience matches up.
"We are hugely confident in the potential of outlet retail to add enormous value in this location, and as a local investor we have long identified the need for a quality retail experience as part of this mixed-use development site."
What is it about the outlet sector, and more specifically CDO, that appeals so much to retailers?
"The sector is remarkably resilient and recent trading figures show centres across the UK consistently performing well. In times of economic uncertainty, people are looking to save on non-essential purchases, and in recent years, the appeal of outlets has expanded, attracting even those who hadn't considered them before, as they provide an opportunity to maintain a desired lifestyle for less. Working with our selected operator partner Realm, we are expecting to see the continued appeal for value and quality, and an enhanced customer experience, as outlet enthusiasts and new shoppers seek the excitement of discovering unexpected treasures at an offer unique in this location.
"To that end, more and more brands are recognising the benefits of incorporating outlet retail into their multichannel strategies, including those that previously overlooked the outlet market, and this has reinforced our commitment to delivering a dedicated outlet offer in this location. Outlet has a robust history nationwide and across Europe, and its potential for future growth is even brighter, making Cotswolds Designer Outlet an appealing prospect for retailers and consumers alike."
How important is location and connectivity in outlet retail?
"As a locally based business established in the area over 60 years, we've have had long-term aspirations to develop an outlet on the site given the unique opportunity the location presents, and we are delighted that those aspirations are now coming to fruition.
"Cotswolds Designer Outlet is positioned immediately adjacent to junction 9 of the M5 and A46 trunk road, with Cheltenham in close proximity just 20 minutes away, Bristol less than an hour, Birmingham within 60 minutes, and with the historic market town of Tewkesbury right on its doorstep. With a resident catchment of nearly 11.8 million within a 90-minute radius, the outlet's potential market reach is substantial. Public transport connectivity was also a major consideration in our plans, with Ashchurch for Tewkesbury Railway Station situated within a 5-minute walk of the site, offering services on the main line from Bristol to Birmingham, and a new shuttle bus service will be provided, connecting the outlet with historic Tewkesbury and the railway station.
"As tourism bounced back after the pandemic, the outlet sector has observed a remarkable surge in spending from this demographic, and we believe there is huge potential in this location to create a full day out experience, tapping into the £3.6 billion in tourist expenditure that the area's historic and cultural attractions generate. The centre is perfectly placed for visitors to the Cotswolds looking for a different kind of day trip as well as coach tours. The location offers an ideal opportunity to attract passing tourists with a staggering 35 million vehicles passing through Junction 9 of the M5 annually and 9.1 million cars traveling along the A46 and we aim to not only target intentional visitors but also capture those who make impromptu visits while passing by."
What were the most important considerations during the design process?
"Our primary goal was to design an outlet centre that works equally for retailers and shoppers alike. With retailers at the forefront of our minds throughout the project, we acknowledged the growing issue of servicing in the sector as more brands run into difficulties as they embrace outlet retail as part of more comprehensive omnichannel strategies. In terms of the customer experience, we wanted to ensure shoppers could take in the entire offer without fatigue setting in. Using software to track shopper movements we discovered the optimum distance for the centre loop would be 850m, which we then designed our scheme around.
"Our design approach is influenced by the area's architectural surroundings and with local materials used extensively, complementing the contemporary Cotswolds style to balance modernity and tradition. As Cotswolds Designer Outlet sits within a major mixed-use development site, there was an opportunity to create more of a 'day out' experience with the introduction of picnic and play areas within surrounding parkland, catering to all visitors and those working in the area."
Are you optimistic about the future?
"Our confidence in this project, and in the potential for it to make a meaningful, lasting contribution to the region's growth, is undeniable. This project is fully funded and is being delivered by Robert Hitchins Ltd. and we have assembled a first-rate team to deliver the programme on our behalf including leading independent outlet retail operator Realm, who are leasing the scheme and will be the asset and property managers upon completion.
"The combination of a strong location, thoughtful design, and positive response from brands has us highly optimistic about the outlet's future success."